Brown & Cony's Lonely Hearts Date
shares the lonely sides of
Brown
and
Cony
's hearts.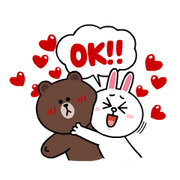 What're these stickers about
Even though Brown & Cony are the most loving couple, they feel lonely without each other, especially Cony, and she wants to get more love and attraction from her husband! These stickers can be lonely couples' choice.
Description of the stickers
They might seem like LINE's most adorable couple, but Brown and Cony have their fair share of lonely spells too! These stickers are perfect for when all you need is someone to chat with a little longer or those quiet evenings when you can't wait for your beau to get off work!
Gallery
See Brown & Cony's Lonely Hearts Date/image gallery .
Trivia
Sally plays as a background in some of the stickers.
Promotion Video