Jewelpet
is the pack of stickers of celebrating the Jewelpet anime's 5th anniversary.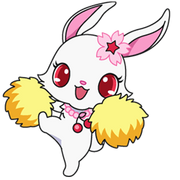 What're these stickers about
The nine main Jewelpets: Ruby, Sapphie, Garnet, Angela, Labra, Rosa, Peridot, Jasper and Sango show all their emotions in these lovely stickers, and you may able to remember some familiar scenes among them! They are a MUST for Jewelpets fans!
Description of the stickers
The Jewelpets have come to cast some magic on LINE! See the sweet, charming expressions of Ruby, Labra, Angela, and more♪
Gallery
Trivia
Sadly, the Jewelpet anime stopped due to the low popularity of season 7, so no 10th anniversary stickers after this.