K.R.T.GIRLS is a pack of original LINE stickers (created by SimonCreative) about the mascot girls of Koahsiung Metro.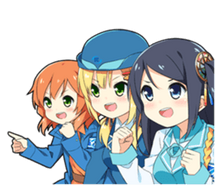 What're these stickers about
K.R.T GIRLS are young girls working in Kaohsiung Metro.They are Xiao Qiong(the girl in the long black hair)the SOs,Emilia(the golden hair girl)the driver member & Ann(the orange hair girl)the Maintenance Engineer.They love their job and they are good friends of one another,even sometimes they have conflicts.These stickers are best choice for K.R.T GIRLS fans.
Description of the stickers
Hi everyone! We're the K.R.T Girls from Kaohsiung, Taiwan! At your service here now in Kaohsiung Rapid Transit, we look forward to seeing you~
Gallery
See K.R.T GIRLS/image gallery.
Trivia
Actually there is one more new member,Nana the Service Member in K.R.T GIRLS.Nevertheless, these stickers had finished their designs before she joined them, so she is not included.
Many K.R.T GIRLS fans were disappointed when they knew that a well-known picture(which the words can be changed into different meanings),"You don't have a girlfriend!!"(in Chinese),so the speakman in the K.R.T GIRLS offical Facebook said they would add this picture as a special sticker in the second pack of K.R.T GIRLS LINE sticker.
Because K.R.T Girls are mascots of Koahsiung Metro in Taiwan, so the words of the stickers are in Chinese.
Community content is available under
CC-BY-SA
unless otherwise noted.