LINE Characters:Pastel Cuties
is a pack of LINE stickers showing the adorable side of LINE friends.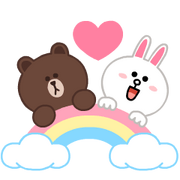 What're these stickers about
LINE Characters:Pastel Cuties display the cute and lovely version of Brown, Cony,Sally, Edward & Leonard, disclosing their emotions and life.These lovable animated stickers can cure people's sadness and is useful at lightning up conversations.
Description of the stickers
The adorable pastel styled LINE characters are here in new animated stickers. They'll bring a lovably sweet performance to all of your chats!
Gallery