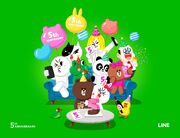 LINE Friends are the LINE'S original characters. There are eleven main characters in total, including seven males and four females.
First off, out of the four classic LINE friends characters (Brown, Cony, James and Moon), Brown was NOT the first to be created, contrary to popular belief. The title of the first child actually goes to Moon. Eventually, Brown, Cony and James followed after Moon in 2011 as emoticons that became an immediate hit due to the capture of various vivid emotions and cute aesthetics. Naver Line Corp. decided to extend the LINE Friends family with Boss, Jessica and Sally in 2013. The following year in 2014, Leonard and Edward were introduced through new mediums such as animations and physical merchandise. In 2016, Naver Line gave life to Choco (the younger sister of Brown) and Pangyo (Choco's boyfriend) to celebrate the brand's 5th anniversary.
Yes! The family has gotten quite big over the years, yet not everyone is aware of these late comers. For those who are not familiar with the characters beyond the 'original four,' I've compiled a brief profile of the characters to help you extend your knowledge and follow my steps in becoming a LINE geek.
Characters
Males
Females
History
The four founding characters: Cony, Brown, Moon, and James first appeared in two sticker packages, Brown and Cony' and Moon and James 'as it launched in 2011. They became popular quickly due to their unique designs.
In 2013, three new characters: Boss, Jessica and Sally joined the group. then a year later, Leonard was introduced and appeared in LINE TOWN and Edward was soon introduced by a sticker package called Edward: Special Edition and the group and brand was finally formed and launched.
In 2016, As its 5th anniversary, LINE announced Brown's younger sister Choco as a new member. And her boyfriend Pangyo was introduced in LINE×Apps for Earth sticker package as its "Protect the Environment" campaign.
Trivia
LINE is from Korea. but its YouTube channels expect Brown TV and animated series are from Japan due to it's popularly.
The non-protagonist LINE Friends characters are only appearances in its stickers or in the LINE Rangers.
Gallery