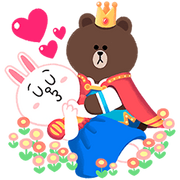 LINE Friends: Fairy Tales is about LINE friends as some famous fairy tales characters.
What're these stickers about
The LINE friends become characters in some famous fairy-tales, including Alice in Wonderland, Cinderella, Snow White, Peter Pan, The Little Mermaid, Little Red Riding Hood, Aladdin, The King's New Clothes, The Frog Prince, The Little Match Girl,The Candy Cottage, Pinnocio and Thumballina. People who love stories are suitable to have them.
Description of the stickers
The LINE characters are all dressed up as princes and princesses from your favorite bedtime stories! The gang has really outdone themselves this time. Download the set and expand your conversations into a world of imagination!
Gallery
See LINE Friends: Fairy Tales/image gallery.
Trivia
These stickers' content just based on the stories. In fact,some of them don't even match the original plot.