LINE OFFLINE Salaryman
is the first series of LINE friends. It is produced by Shogakukan Productions. There are 114 episodes in total.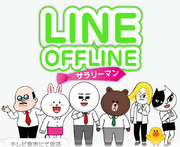 Characters
Plot
In the phone company called Line Corporation, there live in a group of ordinary and interesting people: The protagonist Moon, is a regular high-intensity worker who always works overtime, but during his dozing at working hours, his face is like a full moon, and the wind flutters his vibrissa, which makes his colleagues getting headache. Also, his drowsiness specialty is rely on his instinct to walk and shave; Cony, the rabbit who is keen to lose weight and the graceful figured kitten Jessica seem the most normal, they are girl-friends who joined the company at the same period; Manager James, the President's son who feels super good about himself; Moon's best friend - the silence but sly bear Brown, and the most human-shaped and not subordinate tempered person-the good old minister (Boss). Within a small office, funny stories out-force and alternately staged ......
Gallery
Trivia
Each story premieres for 3-5 minutes only, so some longer stories had cut into parts.
In this anime, Cony has a crush on James rather on Brown.
There are 2 Meeting episodes, 2 Memory episodes and 2 Security episodes.
Episodes
The Ultimate Presentation Tip
I Don't Remember
Fortune
Intense! Haiku Club
The Boss Gives His All
Moon's Dirty Room
That Clinking Thing
Brown in the Restroom
Trashion Impossible
Ponnus Ponnu?
Prostration
The Cockroaches Strike Back
Loving the Centerfold
You're my Shangri-La
Love Those Masks
A Mixer with Flight Attendants
Ponnus Ponnu
Goodbye, James (part one)
Goodbye, James (part two)
Goodbye, James (final part)
Sally & the Dragon
Double Dragon
Outbreak
A Sticky Situation
Marital Fight
Welcome, Oil Baron
Sally's Psycho Test
Consolation Party for Moon
Sally's Job
Curse of the Kekoshi Doll
A SayingHe's Tempted to Use on Wednesday
Everyone's Wok
Umbrella of Kindness
You're not Going Home Tonight
Perfectionist
Moon's Secrets Exposed!
Just the way Cony is
Itching James
Boss! I Can't Hold It
Lovely Skin! Summer Makeup!
No Food was Wasted in the Making of This Episode
A Celebration of the Manager
Moon is Happy to Answer Any Question
Cony Does Her Best
A Trip to Hawaii for Two
Men Who Make Everyone Wet
Sally's Job 2
Who Wants to be a Zillionaire?
Oh Yeah! Let's Go to Atami!
A Heated Meeting
Intense Boss Story
The Marvellous Pudding That Always Sells Out!
The Private Life of a Capable Man
A Little-Known Horror Called Back Pain
A Little-Known Horror Called Money Issues
A Little-Known Horror Called Social Hierarchy
The Last Salaryman (part one)
The Last Salaryman (part two)
The Last Salaryman (final part)
The Making of The Last Salaryman