Moon's Dieting Special is a pack of LINE stickers which tells us about Moon's dieting story.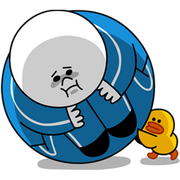 What're these stickers about
Moon has eaten too much until one day he deserves the consequence: obesity!!This causes a lot of misfortunes and inconveniences for him thus he decides to start dieting.What will happen to him in the end?
Description of the stickers
Who ate all the cakes? Probably Moon and now he has to pay for it! Watch his agonizing quest to become slim again! The question is… Will he succeed?
Gallery
See Moon's Dieting Special/image gallery.
Trivia
Some of these stickers are used in LINE TOWN episode 8 part 2.