Sugarbunnies is a 2007 anime series.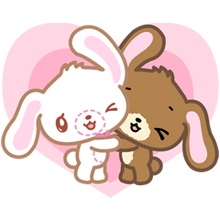 What're these stickers about
The Sugarbunnies are a group of young rabbits from a fantasy world, Bunniesfield,which all the rabbits are twins. There are fourteen of them in total: Shirousa and her brother Kurousa, Hanausa and her sister Momousa, Buchiusa and his sister Mintousa, Aomimiusa and her brother Aousa, Sutoroberiusa and her sister Buruberiusa, Rateusa and his brother Kapuchinousa and Komugiusa and his brother Pandausa.The Sugarbunnies stickers are great for people who are fond of cute cartoon bunnies.
Description of the stickers
The Sugarbunnies are here from Bunniesfield to give your life a tasty kick. Coordinate these delicious colors and sweet talk your friends!
Gallery
Community content is available under
CC-BY-SA
unless otherwise noted.