400 years ago, Natsu was born as the younger brother of Zeref, however, he died at a young age alongside their parents, courtesy of a Dragon attack. This caused Zeref to research Magic and its relation to life and death and, much later, with Zeref using his dead body, he was revived as the strongest Demon: E.N.D; whose purpose was to kill Zeref. As E.N.D., Natsu was a Demon specializing in fire,and purportedly discovered a different route that Magic could take when it was still developing and thus created Curses. During this time he also met Igneel, however the Dragon chose not to kill him because he loved him extremely so.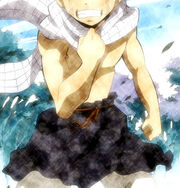 From that point on, Igneel, the mighty Fire Dragon King, taught Natsu how to talk, write, and perform his own signature form of
Lost Magic
:
Fire Dragon Slayer Magic
; Igneel ultimately chose, like four other Dragons of that time period, to
seal his damaged soul
inside Natsu's body and
leap four hundred years into the future
, recover his strength with the future's high Ethernano concentrations and kill Acnologia. While initially thought to have been abandoned by Igneel on July 7, X777, Igneel, July 7, X777 was the day and year he awoke in the future, like the other four Dragon Slayers; however, when Natsu woke, he believed that Igneel had abandoned him, not knowing that he had instead opted to reside inside his body for many years to come. The departure of E.N.D. from the past also gave rise to many legends about the strongest Demon from Zeref's works, including his creation and leading of
Tartaros
(when in fact,
Mard Geer
happened upon E.N.D.'s tome and used it to create unify the other Etherious under a single cause and was the one who created Tartaros), and the fact that he was the most vile creation in Zeref's library of works.
After waking up, Natsu left on a quest to find Igneel and was eventually found by the Guild Master of Fairy Tail: Makarov Dreyar. Natsu ended up joining Fairy Tail, in which he formed a close, sibling-like rivalry with Gray Fullbuster and Erza Scarlet. He was also shown to be on good terms with Lisanna Strauss and Elfman Strauss not long after they arrived to the guild.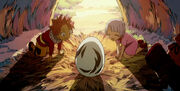 One day, Natsu found an egg in the
forest
east of
Magnolia
.Thinking it to be a Dragon Egg, Natsu took it to the guild and asked Makarov to make it hatch, but Makarov and Erza told him that he was the only one that could make the egg hatch; through love and care. Lisanna offered to help Natsu care for the egg until it hatched, to which Natsu happily accepted. The two built a shabby straw house in the park to keep the egg warm, becoming very close in the process.
The next morning, Natsu discovered that the egg was missing, and began to blame several of his guildmates. After arguing with almost everyone in the Guild and nearly starting a fight with Mirajane, Elfman appeared, carrying the egg, explaining that he only wanted to help, but was too embarrassed to ask. Suddenly, the egg hatched and a blue cat with wings came out. Lisanna remarked upon the sudden change in the guild's atmosphere after the cat's birth, prompting Natsu to name the cat Happy.
A few years passed and Lisanna partook upon an S-Class job with her siblings, in which she was supposed to hunt a creature called "The Beast". Natsu wished to go with him, but Elfman opposed, as he felt he should be the one to take care of his family. Lisanna was accidentally killed (supposedly) by Elfman during his attempt at taking over the monster. Though Natsu forgave him, he was greatly saddened by the event